The Antenatal Masterclass
Antenatal education for your pregnancy journey
A Comprehensive Guide to Your Pregnancy Journey
Have you ever caught yourself feeling anxious or apprehensive about your pregnancy journey? It isn't that other expectant parents know exactly what they are doing. It's also not down to whether you are cut out for becoming a parent or not.
The difference often lies in what knowledge and education you have about what's involved in becoming a parent and how you use that.
That is why The Antenatal Masterclass was designed for you and expectant parents like you. And that is the purpose of why The Happy Baby Class was founded – to educate expectant parents, so they can have a happy birth experience.
This live, online class will allow you to learn from an experienced midwife. You can ask them any questions you may have through our live chat feature. You will also get access to a pre-recorded version of the class, so you can re-watch the modules any time, anywhere. What's more is that you have access to the course and its content for 12 months after you join.
During the class, you will learn about everything ranging from the stages of labour, post-birth & infant feeding. You will also get detailed instructions on Baby Safety and CPR. Something that is so important for any expectant parent today.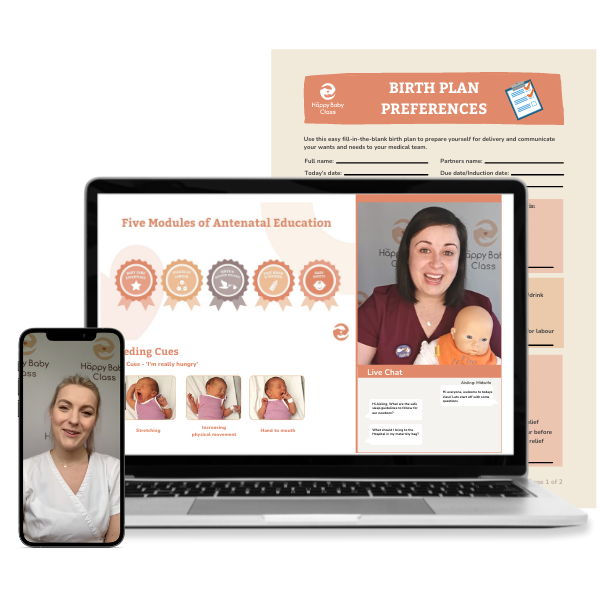 All the information needed for a happy birth experience, in one place!
Sign-up today for instant access!
Attendance to the live Antenatal Masterclass on your selected date
We have many class dates scheduled for you to choose from! These live classes are a valuable way to interact with our team of midwives and ask any questions you may have.
(€300 value)
Instant access to All Class Recordings and Content
 Instant access to a recorded version of our entire course. (8+ hours of content) + class notes + personal birth plan template
(€200 value)
Access to The Happy Baby Class Resource Page
The perfect way to access all the essential information we described above. We've created a private resource page so that you can take advantage of all the benefits that it brings.
In the page, you'll get access to videos of different hospital delivery suites, essential blogs to read up on and lots of other useful info to help you be as prepared as possible for your due date. This group is private and only accessible to The Happy Baby Class family. So, rest assured that it is a safe and helpful place to learn as you continue on your pregnancy journey!
(Priceless)

Excellent, free class provided by Aisling. She covered a huge amount of material in the 2 and a half hours, giving practical advice, clear demonstration and gave extra time to answer all questions clearly. It was obvious she is an expert in her field. Very reassuring and great to focus ones attention on things you mightn't have considered in preparation for your baby's arrival. Thanks so much Aisling, I'm looking forward to the masterclass next month, I signed up straight away!
Fionnuala Ní Choigligh We attended the happy baby class this morning ahead of the arrival of our first baby and found the class to be an excellent introductory antenatal class and learnt a lot that will help us with our baby. Katie, the midwife, was very informative and answered all of our questions. Would really recommend this class.
Caroline Byrnes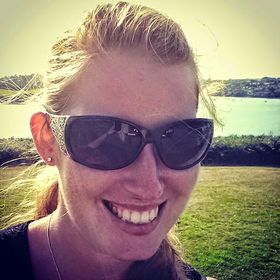 The Advertisement for Happy Baby came up on my Instagram feed and I enrolled in the 2 hr free class, and I'm so glad I did. Aisling was great, and she covered a huge amount in 2 hrs!, the class was very informative and very practical, she not only explained but also gave demonstrations and gave extra time to answer all questions. I found the class and Aisling to be very supportive and reassuring, and it's great knowing that she and the team are available to answer questions, even via Instagram. Have enrolled for the masterclass, and I'm really looking forward to it.
Patricia Cribbins
Let's dive into the Antenatal Masterclass more fully
The Happy Baby Class team designed The Antenatal Masterclass with first-time expectant parents in mind. This class will take you on a journey, learning everything from the stages of labour to baby safety and CPR.
Course Curriculum Overview
Stages of Labour
As you head into your last weeks of pregnancy, going into labour will begin to play on your mind. This can be daunting, but the more you know, the less scary it becomes. The Stages of Labour module breaks down each of the stages of labour so that you can understand what happens and what to look out for during each stage. You'll learn about when you should come to the hospital, what positions are recommended for early labour, and what pain relief options are available to you.
This module will help you make informed decisions on your birthing preferences.
As a bonus, we've included a printable list of what to pack in your hospital bag. We have also included a birth plan template, so you can print and fill it out in preparation of your due date.
If you have any questions at the end of the module, our team will be there to answer them for you.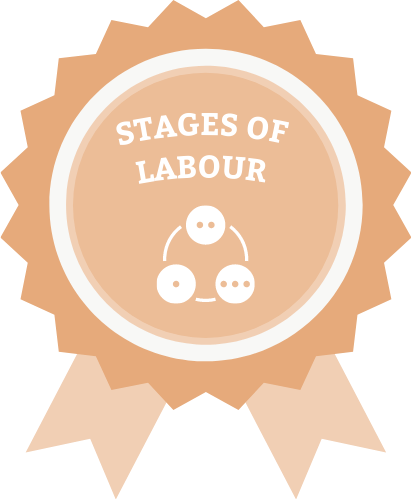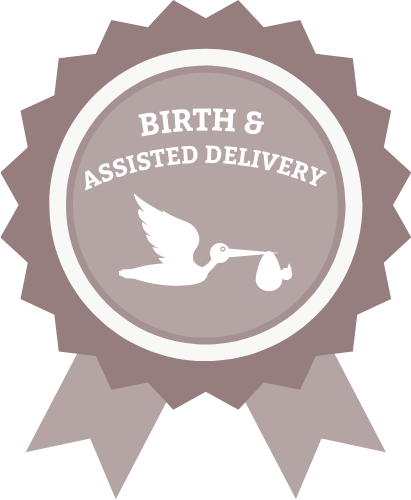 Birth & Assisted Birth
It's perfectly fine if you don't exactly understand how the process of giving birth will take place… That's why we are here! This module is here to help you understand the different aspects of the active birth stage. You'll learn about different positions you can try during the process to help you become more comfortable. Our expert midwives take you through various ways that your delivery can be induced. You will also learn about how the maternity hospital can assist your baby's delivery. We'll even show you what a traditional delivery suite looks like!
Our midwives also cover both planned and unplanned caesarean section deliveries and everything you need to know if you are due to have one.
Finally, the section of the class will cover what skin-to-skin contact and delayed cord clamping are.
If you have any questions at the end of the module, our team will be there to answer them for you.
Post Birth and Feeding
So, you've given birth, and now you have a bundle of joy that you'll be taking to its new home… In this section, you will learn everything from the process of leaving the hospital to how to wind your baby. We will also cover everything you need to know in relation to making decisions on how you would like to feed your baby. Whether you want to breastfeed route or formula feed, the post-birth & infant feeding module will help you to make a decision that is best for you.
We also outline all the various supports that are available to mothers who suffer with baby blues and postnatal depression.
If you have any questions at the end of the module, our team will be there to answer them for you.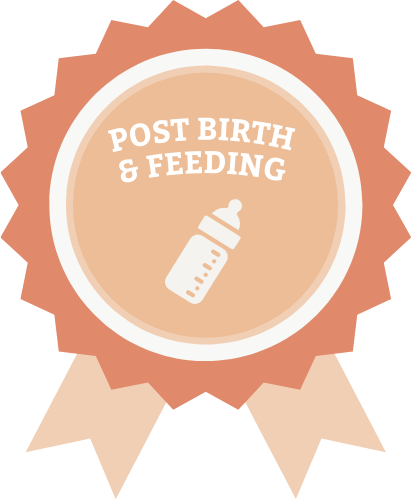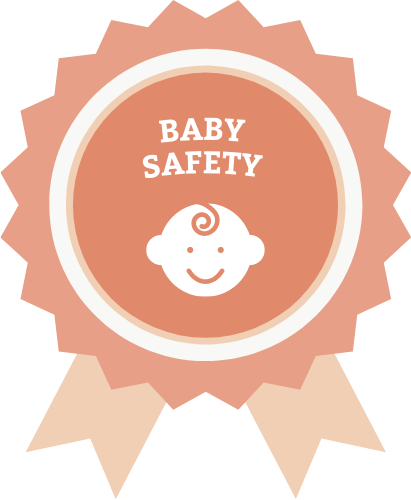 Baby Safety and Infant CPR
Welcoming a new baby into your family is a wonderful and exciting thing. And, like many other wonderful and exciting things, it can also be quite scary.
The Baby Safety and CPR module of the class will take you through a few universally-accepted things that should be done as you're preparing for a new baby. You'll learn everything related to car-seat safety to what to do if your baby seems unwell.
In the event of an emergency, our Baby Safety and CPR module will also educate you on how you should react if your baby has been in an accident, or they need CPR. Our expert midwives will provide demonstrations on how to carry out CPR on your baby if required.
If you have any questions at the end of the module, our team will be there to answer them for you.
Baby Care Essentials
There are some essential things that every expectant parent should learn before their baby arrives in their home. We've created the Baby Care Essentials module to show all the essential information you need to know to care for your newborn in its first few weeks of life.
You'll learn everything from how to bathe your baby to safe sleep guidelines. This module is packed with demos so that you can re-watch and follow along with when you need to.
The information in this module is also covered in our Free Baby Care Essentials Class, so make sure to check that out by clicking here.
If you have any questions at the end of the module, our team will be there to answer them for you.